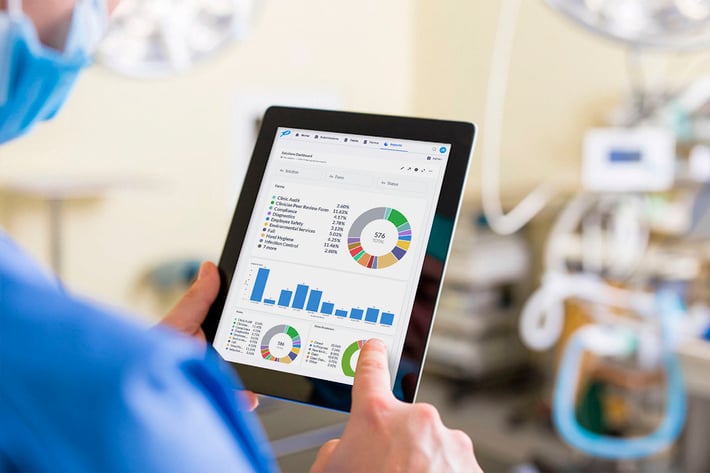 Read on to learn the importance of reporting near misses in healthcare and how the event tracking process is facilitated with incident reporting software.
Definition of Near Miss
The term "near miss" or "good catch" is used to describe an event that did not result in patient harm, but could have. Often, near miss events happen multiple times before a harmful incident occurs; in fact, many avoidable deaths have a history of related near misses preceding them. Reporting near misses in healthcare, therefore, provides valuable opportunities for proactive learning and improvement.
The Journal of General Internal Medicine estimates that 22,000 preventable deaths occur in U.S. hospitals each year.
Organizations that only report adverse events while ignoring near misses are missing out on a valuable resource for identifying areas of safety improvement. Tracking near miss events can provide unique insights into an organization's safety risks and aid in measuring progress on new initiatives.
Benefits of Reporting Near Misses in Healthcare
There are several key benefits of tracking near miss events:
1. Increase Patient Safety
Reporting near misses in healthcare can help providers leverage and trend data to prevent incidents before they occur. For instance, if it becomes apparent that near miss medication errors are happening most frequently in a certain department, leadership teams can investigate why that is and put action plans in place to prevent future errors from occurring.
It may be the case that a certain department is understaffed, which is contributing to more frequent near miss events or errors. By trending safety data and pinpointing near misses down to the specific department, it is possible to prevent errors before they cause patient harm.

A "good catch" reporting program, where employees are recognized for noticing and reporting patient safety risks, can be an effective means to improve patient safety.
Good catches occur up to 100 times more frequently than Serious Events, but often go underreported.
Studies suggest that can reveal gaps in an organization's patient safety program. When healthcare employees report near miss events through a good catch reporting system, organizations can analyze these events to proactively implement risk reduction strategies to improve patient safety.
Recognizing and rewarding staff can encourage good catch submissions and provide more opportunities to improve patient safety. One example is a program at the University of Vermont Medical Center where staff members report good catches using a one-page online form.
Medication Safety Coordinator Jeffrey Schnoor said the program began several years ago and each month awards one employee a $100 gift card, a "good catch" pin, and a write-up in the hospital's newsletter. Monthly winners are eligible for an annual prize of $500 and additional recognition in the newsletter.
Good catch programs give organizations a platform to think of events in a different way and empower frontline staff. "The frontline staff is our biggest asset," said Abigail Halloran, MA, the Director of Risk management & Performance Improvement at Haven Behavioral Health. "They see everything and know everything. The more sophisticated and proactive they become, the safer our patients are going to be."
3. Make Data-Driven Decisions with a Good Catch Reporting Software
It is important for healthcare organizations to report near misses in addition to true incidents so that they can improve patient safety and get closer to zero harm. Customized reports allow healthcare teams to drill down into data across departments and identify the source of problems so that they can be prevented in the future. Utilizing tools such as customized dashboards with drill-through analytics allows healthcare teams to turn vast amounts of data into actionable decisions that drive results.
Performance Health Partner's Incident Reporting Software
Implementing a system for reporting near misses in healthcare is an integral part of an effective patient safety initiative. With Performance Health Partner's Incident Reporting Software, healthcare organizations can easily report, manage, and track near miss events to provide safer, high-quality care. To learn more, download our free guide below.