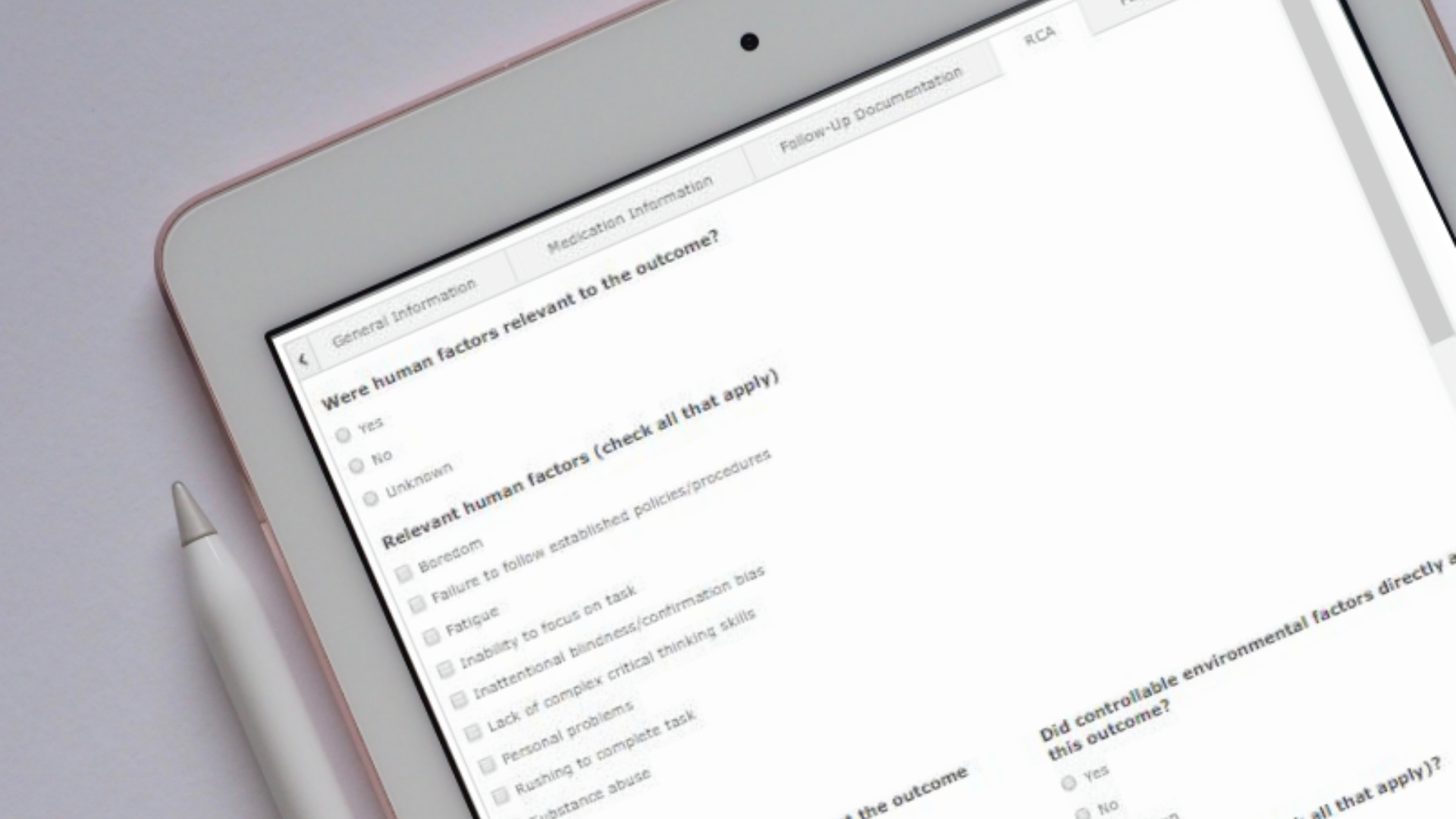 Root Cause Analysis (RCA) "is a structured method used to analyze serious adverse events" in healthcare. The goal of an RCA is to identify any underlying problems in processes that increase the likelihood of an error with a non-punitive approach.
Root Cause Analysis of a Sentinel Event
When done effectively, an RCA can:
Identify factors that contributed to an adverse event so that measures can be put in place to address contributing factors
Improve patient safety outcomes
Prevent incidents from happening in the future
Reduce the costs associated with risk
Although root cause analysis is a key element of improving patient safety and quality of care, finding the right process for conducting an RCA can often be time-consuming and expensive for healthcare organizations to implement.
Multiple studies have shown that RCAs often fail to result in the implementation of sustainable, systems-level solutions.

Root Cause Analysis in Healthcare
Implementing an incident reporting and root cause analysis software can be beneficial in streamlining the process in a systemic way, and can also provide actionable lessons to prevent incidents from occurring in the future. When implementing an electronic process for root cause analysis, healthcare organizations should consider the following tips:
1. Encourage a Culture of Safety and Learning
As healthcare organizations restructure their RCA processes, leadership teams are beginning to observe a shift from a punitive culture to a more supportive environment that encourages performance improvement—sometimes known as a "safety culture".
A Patient Safety Culture is "the culmination of individual and group beliefs, values, attitudes, perceptions, competencies, and patterns of behavior that determine the organization's commitment to quality and patient safety."
When the focus of an RCA is on identifying underlying system contributions and on learning, it promotes a culture of safety that is paramount in improving quality outcomes.
2. Ask the Right Questions
In order to achieve lasting impacts on patient safety and quality, it's important for organizations to have a streamlined process in place for conducting RCAs and monitoring the follow-up management process. Developing a streamlined process involves asking questions such as:
Is everyone using the same methodology to conduct an RCA?
Who is responsible for conducting an RCA?
What is the expected turnaround time for an RCA?
3. Share Information and Identify Trends
Conducting electronic root cause analysis helps healthcare organizations become more process driven by putting systems in place for sharing information and identifying trends.
According to AHRQ, putting systems in place to manage the RCA process helps prevent future harm by "eliminating the latent errors that so often underlie adverse events."
Having a central channel for sharing information after the RCA process helps with learning and can lead to reduced errors and the prevention of incidents in the future. Performance Health Partner's RCA software allows for interdisciplinary teams to easily collaborate on systemic issues that lead to adverse events, allowing organizations to take a collaborative approach that is focused on learning and lasting improvements.
A Comprehensive Root Cause Analysis Software
One way to improve the RCA process and achieve higher quality outcomes is to implement a root cause analysis software. Benefits of implementing a root cause analysis software include:
Standardize management of the root cause analysis process
Provide a central channel for team communication
Get real-time notifications and alerts
Analyze custom dashboards to track reported incidents over time
By encouraging the sharing of information, putting processes in place for effective communication, and promoting a culture of safety, conducting effective root cause analysis through an electronic solution can positively impact quality outcomes in healthcare.
To learn more about Performance Health Partner's RCA software click here, or schedule a demo.