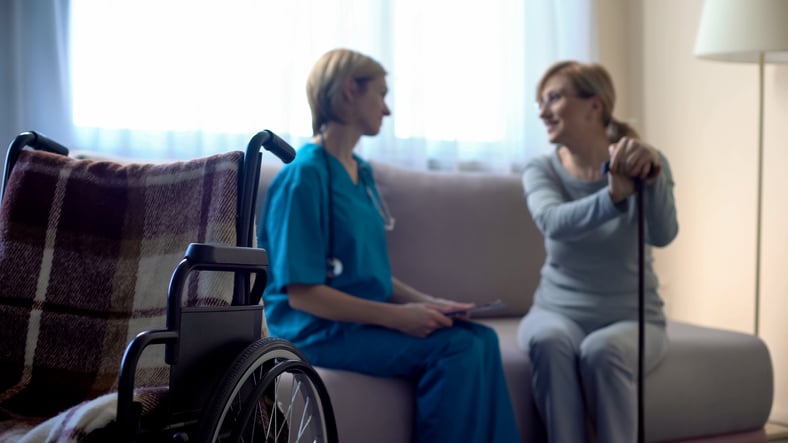 Falls in older adults are the third leading cause of chronic disability, and a recent study published by the Journal of the American Medical Association found that deaths from falls are significantly increasing among older adults. (1) Nearly 25,000 people aged 75 and older died as a result of falls in 2016 -- almost three times as many as in 2000. In the U.S., 30% of older adults experience at least one fall annually, with a particularly high rate (50%) over the age of 80. (2)
Experts caution that this number toll is likely to rise as the U.S. population ages. (1)
"As the United States population continues to age, we can expect more deaths from falls. We can also expect more hospitalizations and nursing home admissions as a result of falls."" -- Robin Lee, Epidemiologist, Injury Center of the U.S. Centers for Disease Control and Prevention. (1)
Fall prevention is therefore a critical area of need within the U.S. healthcare system. Fortunately, there are several best practices that can help seniors age safely and prevent falls from occurring.
Best Practices for Fall Prevention
1. Preventing Falls Through Teamwork
While individual efforts can go a long way, comprehensive fall prevention requires a whole-team approach. "It's important to know that falls are not a normal part of aging and that preventing falls is a team effort," says Callie Whitwell, Chief Operating Officer and founding partner at Lifetime Wellness, an independent living, assisted living, skilled nursing and rehabilitation, and memory care provider.

In a team approach, staff members prioritize observing residents and reporting any mental and physical changes that may increase fall risk, such as confusion or struggles in standing or walking. Residents may also be evaluated for various treatment options, including changing medication or starting exercises that strengthen muscles and improve balance. (3)
"From nursing staff to housekeeping, everyone needs to work together in making the environment safe for senior residents. Guidelines for fall prevention provide a shared structure to reduce the risk of falls and to keep seniors well."-- Callie Whitwell, Chief Operating Officer and founding partner at Lifetime Wellness.

A good way to implement fall prevention guidelines is through rounding tools. A fall prevention rounding tool is a structured checklist of actions and communications to guide the healthcare team in their interactions with residents, centered on educating them on fall prevention practices, assisting them with mobility, and partnering with them in a commitment to work together to prevent falls. The rounding tool may be customized as needed and used as frequently as deemed appropriate by the frontline caregivers. (4)
Hospitals have reported improvements ranging from 28% to 33% reduction in fall rates after implementing fall prevention programs. (5)
In the event that there is a fall, a post-fall huddle and root cause analysis tool is beneficial to identify if there was a breakdown in processes, change in resident condition, or environmental issues that led to the fall. A timely investigation of the facts surrounding the fall may give the healthcare team the opportunity to correct or minimize that risk to prevent subsequent falls. (6)
2. Implement Exercise Programs and Physical Therapy
Studies have shown that practicing strength, balance, agility, and coordination exercises can help reduce falls in older adults. Exercises such as leg raises, marching in place, and heel raises help strengthen the calf and thigh muscles to improve balance and coordination. (7)

There is strong evidence that strength and balance-based exercises reduce falls by up to 42%, and that strength and balance exercise as a stand-alone intervention may be the most cost-effective approach to fall prevention at a population level. (8)
Exercise as a means of fall prevention and for the promotion of independence has been welcomed by older people, as it is seen as a positive step that individuals can take to be proactive in their own health and wellbeing, as well as to enhance their quality of life. (8)

Residents who are recovering from injury, illness, or surgery typically receive physical therapy, including balance and strength exercises, as part of their rehabilitation program. "While physical therapy can reduce the risk of falls during treatment, the risk of another fall soars when rehab stops," notes Callie Whitwell, Chief Operating Officer and founding partner at Lifetime Wellness. "Seniors who continue to reside at the care facility often decline after discharge from rehab, if they do not continue to maintain their level of function achieved." (3)
3. Home-based Safety Interventions
Sixty percent of falls happen within a home setting. (9) Many senior adults may lack the balance and reaction time needed to avoid a fall within their home, so it's important to make modifications in the external environment that can help reduce fall risk. (10)
Home-based safety interventions to reduce fall rate may include (10):
Providing non-slip mats in the bathtub and shower.

Installing grab bars in strategic points around the bathroom, such as inside the shower stall or above the bathtub.

Providing a shower seat for better support when bathing.

Clearing any stairs of miscellaneous items.

Tightening any loose stair handrails.

Removing unneeded furniture to give more room to maneuver.

Providing mobility aids, such as a wheelchair, walker, cane, or motorized scooter.

Providing proper footwear with non-slip soles.
It's also important for staff to make family members aware that any items brought into a resident's home or room, such as rugs, coffee tables, or ottomans, can present an increased fall risk. Any fall prevention modifications made within the home setting should also be applied to the senior living facility environment, and vice versa.
4. Utilize Technology Tools to Minimize Fall Risk



Each year, between 700,000 and 1,000,000 people in the United States fall in a healthcare facility, and roughly 25%of them will suffer a fall-related injury, resulting in increased healthcare utilization, longer patient stays, higher costs, and greater liability. (11)
Technology tools can be beneficial in minimizing fall risk among older adults. Clinical rounding and incident reporting tools are an effective way for healthcare teams to identify and correct or minimize the risk of safety hazards in the patient's physical environment — from the inpatient room to the hallway or procedural areas. (12)
Whether it's implementing exercise programs, creating fall precautions within senior living facilities and the home setting, or utilizing technology tools to minimize fall risk, we can all play an important role in reducing fall risk among seniors and reducing overall harm.
Performance Health Partners Solutions
Performance Health Partners helps healthcare organizations provide the highest quality care in the safest possible environment. Our Incident Reporting system helps care teams proactively identify fall and other patient safety risks to get ahead of incidents before they happen. To learn more, visit performancehealthus.com or schedule a demo.
References: