There are 134 million patient safety events that occur each year, resulting in $20B in annual costs. (1) Patient safety technology supports healthcare organizations in their efforts to prevent patient safety events and yields the following outcomes: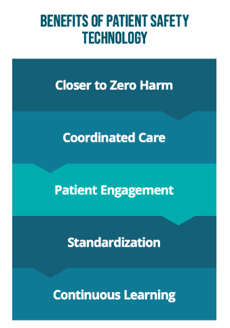 1. Closer to Zero Harm


Implementing a patient safety technology provides healthcare teams with standardized event reporting tools, clinical rounding tools, and streamlined processes that reduce complexity and redundancy. This allows clinical teams to focus on delivering safe, high-quality patient care to get closer to zero harm.


2. Coordinated Care
Patient safety technology can reduce errors and improve care coordination by integrating and organizing patient safety information in a centralized location and using standardized language and processes. It also helps facilitate the distribution of this information to all authorized members of a patient's care team.

A centralized technology hub for team collaboration eliminates the departmental siloed approach to assessing quality indicators, while automated email updates about status changes to patient safety, timelines, or action items keep the entire team informed and engaged.
3. Patient Engagement
Patient involvement in their own care has, in recent years, been recognized as a key component in the advancement of patient safety.
In 2007, the Joint Commission mandated that healthcare organizations "encourage patients' active involvement in their own care as a patient safety strategy", catalyzing research into how patients may inadvertently precipitate errors, as well as how they may partner with providers to prevent them. (2)
Efforts to engage patients in safety initiatives have focused on three areas (3):
Enlisting patients in detecting adverse events
Empowering patients to ensure their safe care
Emphasizing patient involvement as a means of improving the culture of safety
A patient safety technology platform not only facilitates direct patient involvement, but also fosters clearer and more transparent communication between leadership, providers, and their patients.


4. Standardization
Though a seemingly simple intervention, technology-enabled checklists and common format templates have played a major role in recent successes in the patient safety movement.
These algorithmic listings of actions to be performed in a given clinical setting ensure that every step is followed for every patient every time, thereby reducing the risk of behavioral "slips" on the part of the care team. (4)
They both standardize work protocols and create independent checks for key patient safety and quality workflow processes.
5. Continuous Learning
One of the most powerful ways a patient safety technology leads to performance improvement is by helping providers identify and leverage trend data to prevent incidents before they happen.
When providers have a platform through which to easily capture, analyze, and share data – either exported to registries and organizations like PSOs (who facilitate data aggregation and benchmarking across facilities) or shared internally with staff and executives – they can proactively act on potentially harmful situations and minimize escalation.
A Safer Environment for Patient Care
When healthcare organizations rely upon manual event tracking, they risk inconsistent or incomplete data collection and lack the tools for effectively synthesizing event data.
With a patient safety technology program serving as a central channel for team communication, providers can access event information in real-time and track trends to prevent such events from happening again in the future— contributing to an overall safer environment for patient care.
Interested in learning more about the true costs of patient safety events? Download a worksheet on Calculating the Cost of Events At Your Facility:
References:
AHRQ PSNet. Patient Engagement and Safety. (2017). https://psnet.ahrq.gov/primer/patient-engagement-and-safety
Agency for Healthcare Research and Quality. (2019, January). Patient Engagement and Safety. Retrieved from https://psnet.ahrq.gov/primers/primer/17/patientengagement-and-safety
Agency for Healthcare Research and Quality. (2019, January). Checklists. Retrieved from https://psnet.ahrq.gov/primers/primer/14/Checklist