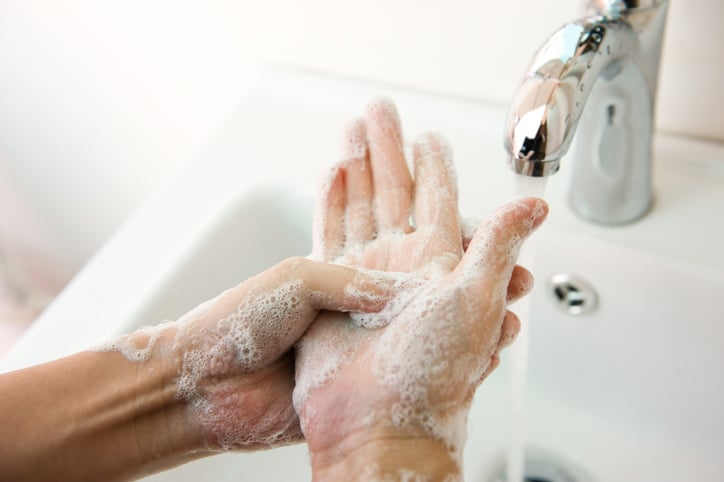 Fourteen avoidable hospital acquired-conditions accounted for 48,771 adverse patient outcomes, 3,219 deaths and more than $2 billion in excess hospital costs in 2016, according to an IBM Watson Health study.
Favorable Patient Outcomes
In order to reduce hospital-acquired conditions—one of the leading causes of readmission—it is important that healthcare organizations complete effective and purposeful rounds. (2)
Effective patient rounding is defined as "an intentional act conducted with clear purpose for the patients' benefit" (3).
Research has shown organizations that have successfully implemented medical rounding have significant decreases in adverse patient events, as well as high levels of improvement in patient and staff satisfaction. (4)
Hourly patient rounding in a study of 14 hospitals revealed the following improvements (5):
12% increase in patient satisfaction scores.
52% reduction in patient falls.
37% reduction in light use.
14% decline in skin breakdowns.
In addition, one hospital measured a 20% reduction in the distance walked each day by the nursing staff.
However, it can be challenging for healthcare organizations to maintain organized rounding data, particularly when using Excel or tracking on paper. Difficulty in tracking and performing regular patient rounds can also negatively impact the patient experience. (6)
4 Simple Strategies for Patient Rounding
Fortunately, there are several steps that healthcare organizations can take to improve efficiency and make patient rounding more purposeful:
1. Implement Purposeful Rounding Tools
When organizations round on patients correctly, rounding is an incredibly useful tool for data collection and event reporting. With the implementation of a software solution, healthcare organizations can improve their performance, accountability, time, and efficiency.
Benefits of implementing a rounding software include:
Streamlined data entry for faster, more efficient rounding. With a well-organized rounding process, healthcare teams can reduce time spent on administrative functions and spend more time focusing on patient care.
Direct communication of rounding data to other team members and supervisors. When all departments and teams have access to patients' statuses in real-time, healthcare teams can enable informed communication to better assess care. (7)

Information can be easily analyzed and tracked

over time with custom dashboards and analytics. This allows care teams to see the bigger picture, measure key indicators, and track progress over time.
Using patient rounding technology has improved patient satisfaction scores in 59% of healthcare organizations. 37% of organizations report benefiting from rounding technology's immediate feedback and accountability and compliance benefits. (8)
2. Build a positive, patient-centric culture.
Encouraging a positive, patient-centric culture in care teams plays a large role in yielding favorable patient outcomes. One study found that five months after the implementation of a patient-centric medical rounding process, overall patient satisfaction scores increased by 71%. (8)
Positivity in other aspects of work, such as relationships with coworkers and managers, also has a strong influence on the quality of care delivered to patients.
When healthcare organizations are committed to building a positive, patient-centric culture, team members can carry out their rounding and patient facing duties more effectively. (9)
Purposeful rounding promotes a culture of safety through (10):
Enforcing a safe work environment
Checking all equipment
Eliminating and/or reducing behavior processes that could result in harm
Providing a focus on patient safety and patient assistance
Identifying issues and deficiencies before they develop into safety events
Demonstrating a commitment to change
3. Increase workforce engagement
.
Employee satisfaction is just as important as patient rounding. When healthcare organizations increase engagement by conducting executive rounds of caregiver teams, it helps leadership understand concerns and take appropriate action to improve employee satisfaction. (10)
In addition to addressing concerns and identifying areas of improvement, rounding goes a long way in promoting effective communication and transparency among a care team.
Rounding has been found to be the single most effective tool to make employees feel appreciated and heard. (10)
4. Identify areas of improvement.
Healthcare organizations that round on patients purposefully will inevitably discover issues or areas of improvement during the process. A rounding tool helps organizations ensure not only that issues are corrected efficiently, but also that data can be tracked over time to improve processes in the future. (10)
Continuously identifying areas of improvement is important for all types of healthcare organizations to ensure patient safety and improvement in quality outcomes.
Conclusion
Rounding is an important tool in the patient journey and can dramatically improve organizational efficiency when performed effectively. While there are obstacles to effective rounding, implementing software solutions, creating positive environments in the workplace, increasing workforce engagement, and identifying areas of improvement are four central ways to combat challenges and improve patient satisfaction.
References:
1-Hospital-Acquired Conditions lead to avoidable cost and excess deaths. IBM Watson Health. Retrieved from https://www.ibm.com/downloads/cas/X97QXLER.
2- Reducing Hospital Acquired Infections with Rounding. (2018). Retrieved from https://www.modernhealthcare.com/article/20180226/SPONSORED/180229939/reduce-hospital-acquired-infections-with-rounding.
3- The value of purposeful rounding. (2015, November 10). Retrieved from https://www.myamericannurse.com/value-purposeful-rounding/
4- Hourly rounding: perspectives and perceptions of the frontline nursing staff. (2014). Retrieved from https://onlinelibrary.wiley.com/doi/abs/10.1111/jonm.12114.
5- Nursing: Quality and Safety. Stanford Healthcare. Retrieved from https://stanfordhealthcare.org/health-care-professionals/nursing/quality-safety/purposeful-rounding.html.
6- Leighty, John. "Hourly Rounding Dims Call Lights". www.Nurse.com, December 4, 2006. Meade, Christine M. et al. "Effects on Nursing Rounds on Patients' Call Light Use, Satisfaction, and Safety". American Journal of Nursing, September 2006. 106 (9): 60.
7- (2018, March 23). Using Patient Rounding Tools to Enhance the Patient Experience. Retrieved from https://patientengagementhit.com/news/using-patient-rounding-tools-to-enhance-the-patient-experience
8- Adam Cherrington and Colin Buckley. Digital Rounding 2018- A First Look at Digital Rounding Vendor Performance. June 12, 2018. Retrieved from https://klasresearch.com/report/digital-rounding-2018/1327.
9- Studer Group. (2007). Hourly Rounding Supplement. Retrieved from https://www.mc.vanderbilt.edu/root/pdfs/nursing/hourly_rounding_supplement-studer_group.pdf.
10- 5 Benefits of Implementing a Rounding Solution. Sentact. Retrieved from http://sentact.com/2018/07/26/5-benefits-of-implementing-a-rounding-solution/.