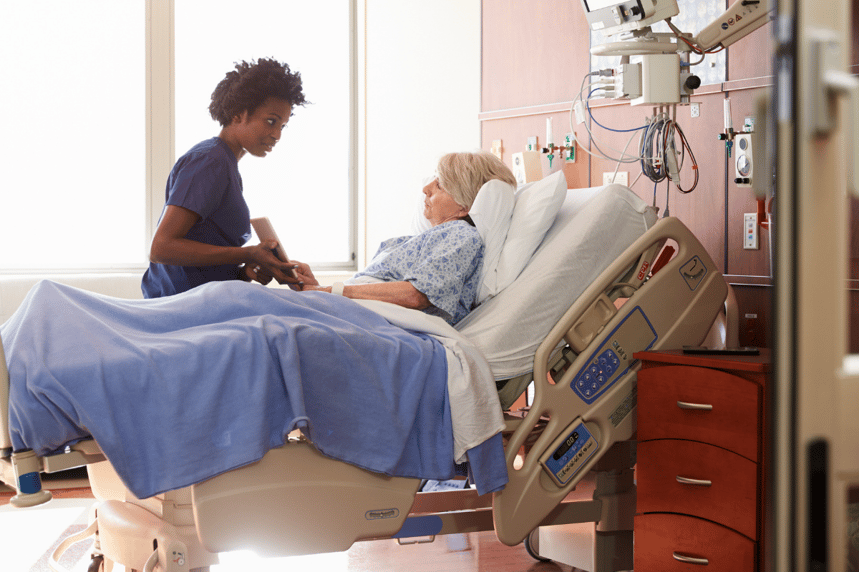 Safety rounds are conducted by healthcare organizations to identify risk and address problem areas before they become bigger employee and patient safety issues. Safety checklists within a comprehensive, rounding technology solution are a crucial part of rounding, as they empower healthcare teams to stay focused on what matters most: delivering the highest quality care in the safest possible environment.
Today's digital rounding solutions streamline efforts to effectively round on patients, manage risks, and make the delivery of care as efficient as possible.
The Importance of Employee and Patient Safety Rounds
We can't fix what we don't know is broken. That's why we visit our physician for an annual checkup, check the air in our tires before a road trip, and regularly test the batteries in our smoke alarms.
The same rings true in healthcare, which is why organizations conduct patient safety rounds. The idea that undetected or dormant problems can intensify into devastating situations is the concept behind hospital safety rounds, which are part of a larger strategy to ensure high-quality patient care.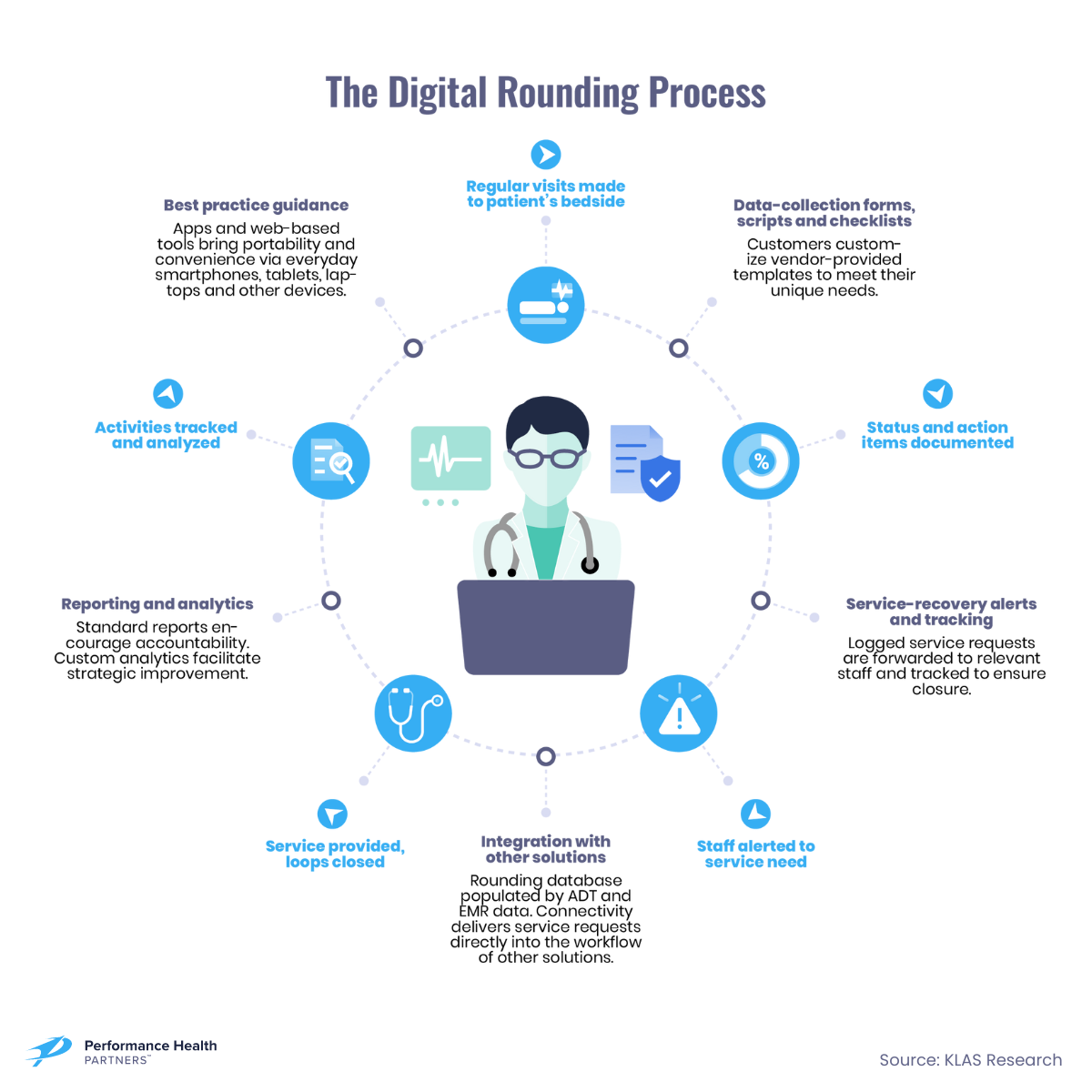 When healthcare teams make the effort to observe whether systems and processes worked correctly through effective patient rounding, they are able to identify the warning signs of potential accidents and events such as:
Clinical staff not wearing appropriate shoes

Missing fire equipment

Obstructed walking paths

Unlocked doors leading to areas that should be secured

Exits not clearly indicated

Empty soap dispensers at handwashing stations

Malfunctioning nurse call buttons

Mold under the sinks

Staff unaware of how to report a near miss or actual incident and follow-up processes
Unfortunately, because care teams are typically focused solely on providing the best patient care in a busy environment, they sometimes overlook the little details that can make a big difference in outcomes. That's why it's important for organizations to ensure the physical environment is as safe as possible, always.
The good news is that technology can enhance the rounding process, helping organizations improve their safety efforts, patient satisfaction, and employee engagement.
Use Cases for Digital Rounding Technology
As points of care increase in number and type, digital rounding tools are becoming more robust, and are useful for several types of rounding. Use cases for digital rounding tools include:
Nurse rounding with patients:

Regular (often hourly) nurse visits to the patient bedside to assess patient status, complete tasks, and build relationships

Management rounding with employees:

Regular visits by hospital executives and managers with staff across departments to maintain open lines of communication, access needs, and resolve issues

Leadership rounding with patients:

Scheduled visits by hospital executives with patients to show commitment to care and gain firsthand perspectives on patient experience

Staff rounding with patients' families:

Visits with family members of patients who are dependent on family support (such as children, older patients, etc.) by hospital staff

Other:

Such as environmental services, hand hygiene audits, discharge rounding, and employee recognition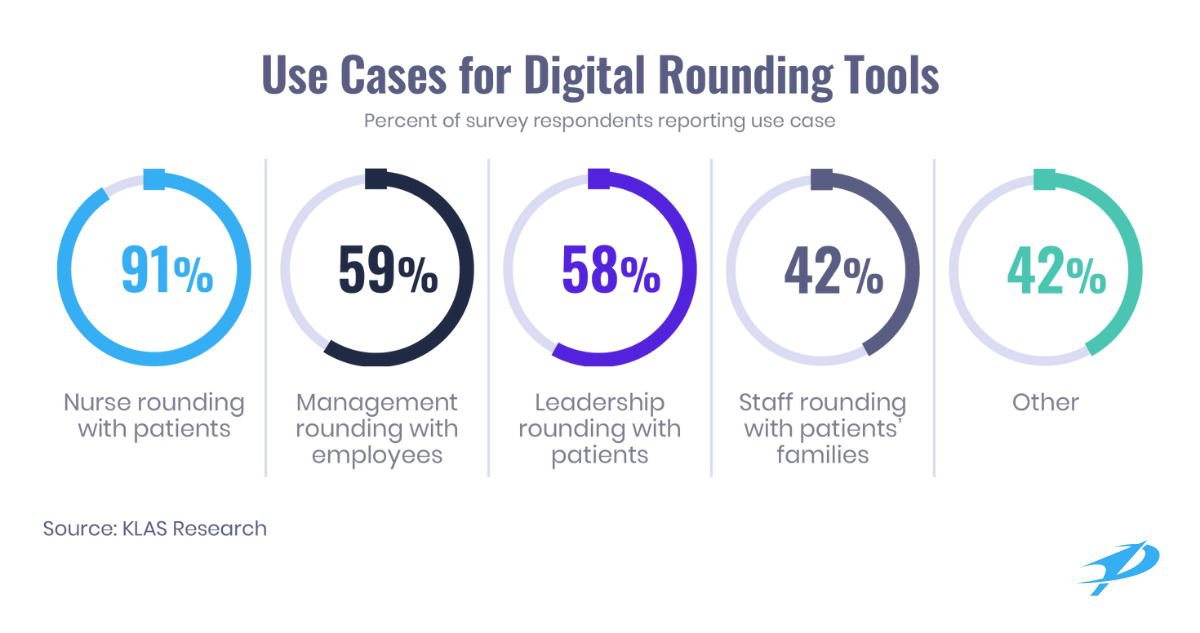 How Can Technology Improve Rounding?
Rounding technology can help multi-disciplinary teams conduct safety rounds more efficiently and effectively, with the goal of detecting and addressing patient safety risks as quickly as possible.
For example: A mobile workstation removes the need to use bothersome and time-consuming manual processes during rounds. Organizations can instead use digital tools to evaluate performance, input rounding data, and develop immediate action plans – in just a few clicks.
Digital rounding tools also enable teams to conduct assessments quickly and conveniently, as technology facilitates rounding processes by standardizing templates, including checklists. Then, based on the collected data, risks can be immediately identified and classified.
Should the team recognize an issue during rounds, a structured digital incident reporting system makes incident reporting forms accessible via computer, tablet, or smartphone. The system then triggers an automatic workflow to ensure the appropriate people are notified in real-time. If the issue isn't resolved within a specific amount of time, the technology automatically escalates the event to a manager or supervisor.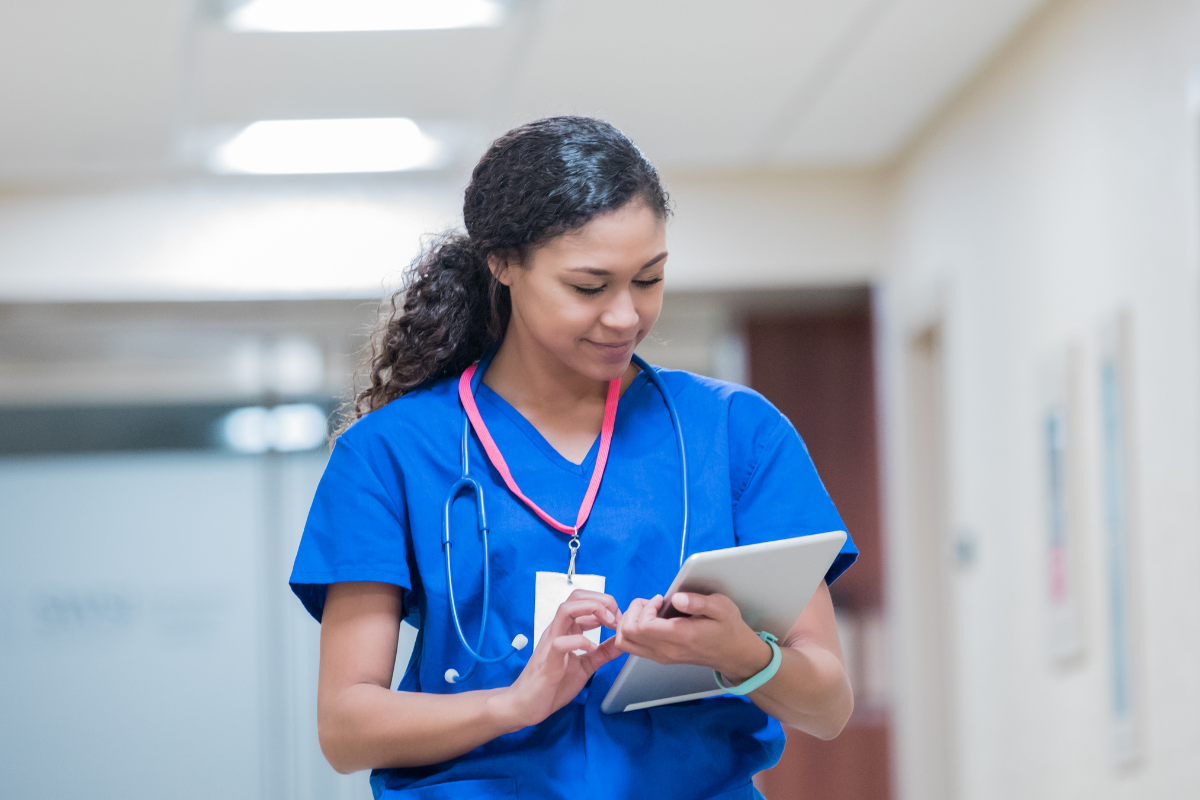 Digital dashboards help teams visualize and understand the risks and display the status of all assessments in addition to the resulting measures. Teams can easily translate the assessment into interventions that reflect the Plan-Do-Check-Act (PDCA) cycle:
PLAN:

Determine goals for a process and needed changes to achieve them.

DO:

Implement the planned improvement in a controlled setup.

CHECK:

Evaluate the results in terms of performance; compare it with the original situation and check it against the objectives set.

ACT:

Standardize and stabilize the change or begin the cycle again, depending on the results. This cycle emphasizes that quality improvement should be a continuous process that requires ongoing attention.
Meaningful Outcomes Achieved with Digital Rounding Tools
In addition to optimizing quality, digital rounding tools can improve the patient experience, as technology solutions help healthcare organizations measure and improve patient satisfaction during patient stays.
In a 2018 KLAS Research survey, respondents noted several key meaningful outcomes achieved with using technology to round on patients. Among the most common were improved patient satisfaction, immediate feedback and recovery, accountability/compliance, and better collaboration among care teams.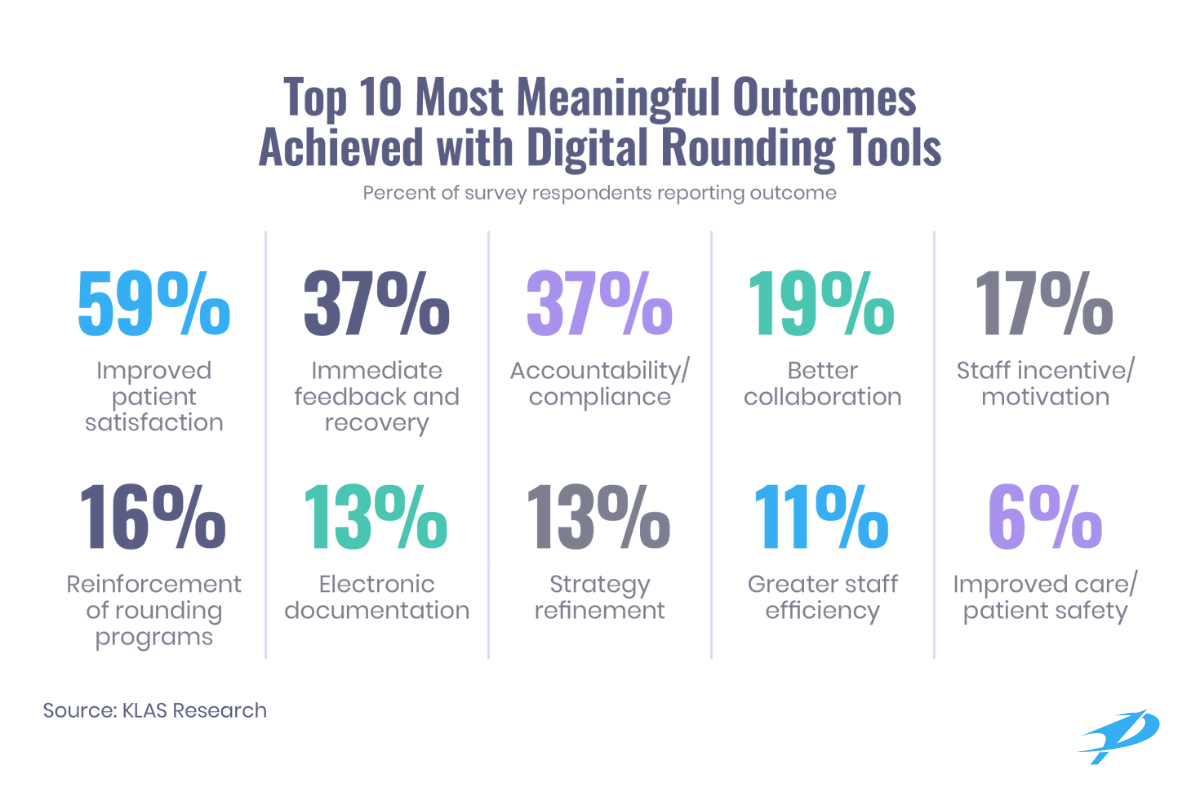 Types of Technology to Effectively Round on Patients
Thanks to ever-evolving technological solutions, healthcare organizations can easily and continuously improve upon the systems they've already developed and implemented. Another effective way of enhancing existing rounding processes is by incorporating additional technologies that have the power to expand the impact of virtual rounding.
Some of these technologies include:
Devices:

Computing devices (usually tablets) are at the core of any digital rounding solution. For maximized flexibility, it's best if a digital rounding software is device-agnostic, or that its workflows can run on either Android or Apple devices.

Electronic medical records:

Implementing a rounding solution compatible with a healthcare organization's electronic medical record system creates a more seamless, organic experience for care teams, which in turn can drive adoption of the new tool. These integrations enable providers to effortlessly record their observations without switching between multiple applications, allowing them to dedicate more of their time to their patients.

Patient experience APIs:

Healthcare organizations should also make efforts to integrate digital rounding with existing patient-facing technologies. One way to do this is through application programming interfaces

that are centered around the patient experience

, which make it easy for patients to join rounding sessions.

Business intelligence:

By applying business intelligence tools to its digital rounding system, a healthcare organization can perfect the role of rounding in patient and employee safety, and take a more integrated approach to healthcare. Therefore, rounding should be part of an organization's overall patient care and business strategy.

Mobility management:

By leveraging mobility management tools, organizations can efficiently implement new apps, apply security policies, and monitor and manage their rounding environments.
Streamline Rounding Processes with a Solution Everyone Can Use
Implementing rounding and incident reporting software is an integral part of establishing an effective patient safety culture.
With Performance Health Partner's digital rounding solution, healthcare organizations can take action against the harmful effects of safety incidents, while focusing on improving the quality of the care experience.