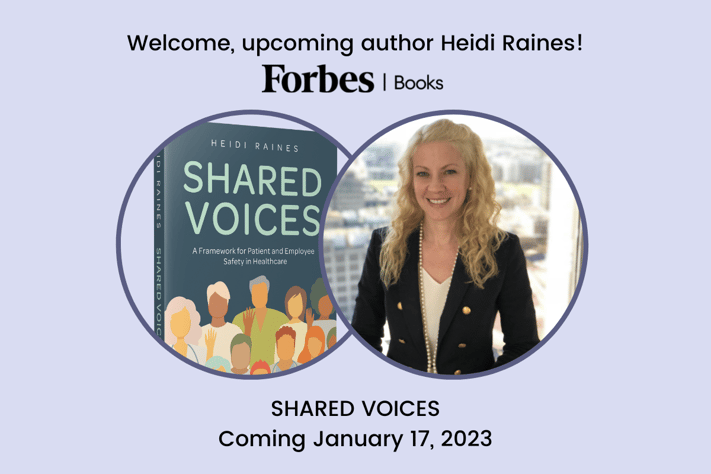 Heidi Raines, CEO and Founder of Performance Health Partners and an authority on advancing employee and patient safety, is partnering with Forbes Books to author a book that explores how the healthcare community can reduce incidents, errors, and safety events that jeopardize patients and employees and, in the process, give voice to patients and employees who are the eyes, ears, and heartbeat of a healthcare organization.


"Recognizing and implementing actions to prevent patient and employee harm has the greatest potential effect on the quality of care delivered in our healthcare system, just as preventative care and wellness efforts slow or stop the progression of disease," Raines says. "Many of us in healthcare entered the profession because we wanted to help, heal, and serve. At our core, we have compassion, empathy, and a drive to help people live their best lives."

In the book, titled Shared Voices: A Framework for Patient and Employee Safety in Healthcare, Raines will tackle such topics as creating a "just culture" in healthcare, building an effective reporting system, communicating with patients and families, and automating safety checklists to improve and ensure a safe environment of care.

"It's when we choose to access the extraordinary opportunity to give care providers, patients, and patient families a voice—only when we speak up, learn, and adjust our practices intentionally and incrementally—that we make strides toward better care, lower costs, healthier employees, and safer patients," Raines says.

In Shared Voices, Raines examines how employees and patients often remain silent about issues they see because of worries they will face repercussions if they bring safety concerns to light. As someone who considers the voices of healthcare workers, leaders and patients as the first step to meaningful transformation, Raines advocates for bringing that silence to an end.
About Heidi Raines
Heidi Raines is the founder and CEO of Performance Health Partners (www.performancehealthus.com), a healthcare technology company providing patient safety, employee health and quality improvement solutions to healthcare organizations. She also is the Board President of the American College of Healthcare Executives' Women Healthcare Executive Network and holds Preceptor Faculty positions at Tulane University's Master of Health Administration (MHA) and University of New Orleans's Bachelor of Healthcare Administration program. Raines has received awards for innovation and executive leadership, including City Business' Innovator of the Year and Woman of the Year awards and was named one of the Top 100 Influential Entrepreneurs.
About Forbes Books
Forbes Books (forbesbooks.com) is the exclusive book publisher of Forbes. Forbes Books identifies and selects authors who are game changers and thought leaders in their fields. They are people who recognize how publishing a book can elevate their message and inspire audiences to better themselves and the world around them. Since its launch in 2016, Forbes Books has grown into the premier independent business book publisher.