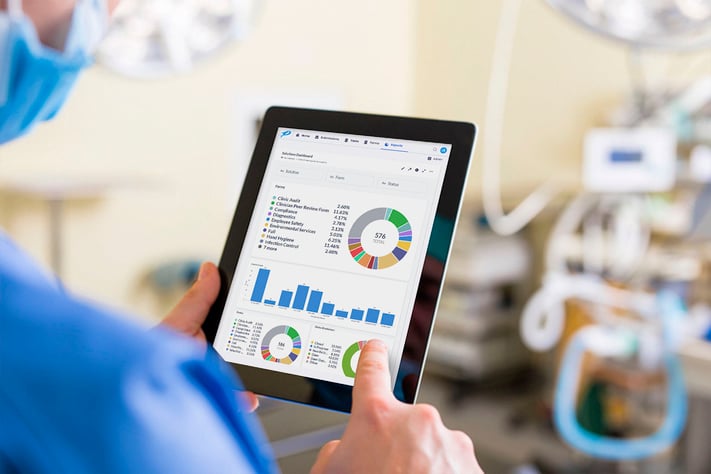 Each day, healthcare organizations face new and unique challenges that affect the quality of the patient experience. Healthcare risk managers and healthcare reporting play a vital role in combating these challenges, including reducing patient harm and preventing costly claims.
According to the American Hospital Association, hospitals conduct approximately 36.2 million admissions in the U.S. each year. (1)
With a growing number of patients admitted to healthcare facilities every year, many risk managers face competing priorities, from evolving patient safety needs to growing regulatory requirements. As more tasks demand attention from risk managers, it can become difficult to focus on what matters – reducing patient harm. (2)
Modern healthcare providers must take a more intelligent approach to day-to-day operations and addressing risk. Implementing an incident reporting system can help risk managers identify trends with streamlined healthcare reporting to minimize time spent retrieving data from disparate sources.
A risk manager equipped with modern technology tools can significantly reduce the risk of patient safety incidents. (3) When evaluating an Incident Reporting System in healthcare, risk managers should look for the following features:

1. User-friendly Icons
Effective healthcare reporting in an incident management system should be easy to navigate. Staff should know precisely where and how to report an event to reduce complexity and encourage reporting incidents, events, and near misses. (4) Various types of events should use different icons for reporting; for example, a staff member reporting a fall event would click on a different icon than a staff member reporting a medication error. The incident reporting software should also include tooltips for greater efficiency.
A tooltip is a text description that is displayed when a user hovers the mouse cursor over an icon or image. (5)
Utilizing this feature enables staff to quickly determine the proper course of action for reporting various incidents.

2. Customizable Healthcare Reporting Forms for Quick Submissions
It is essential to choose an incident reporting system that is customizable to your organization's specific needs. Rather than changing your processes to meet the technology's capabilities, an effective patient safety solution should be adaptable to the methods your team is already familiar with. For instance, if your organization uses the terminology "location" instead of "facility," then the incident reporting intake form questions should reflect that language to make it easy for staff to understand.
A technology solution should also be adaptable to the changing demands of an organization. For example, quickly adding or removing questions from a healthcare reporting form is an important way to keep up with ever-evolving needs.
An effective healthcare incident reporting system should allow team members to complete incident reports in less than 3 minutes. In addition, look for the ability to quickly navigate through forms using radio buttons instead of free text fields (which tend to be more time-consuming.) The goal is to easily capture the facts of an event and allow team members to go back to patient care quickly.
3. Interoperability
A single platform with easily accessible data allows care teams to stay informed and engaged. An incident reporting system for risk management should securely integrate with EHRs to make it easy to pull patient information, resulting in faster reporting time. (6)

4. Automatic Routing for Follow-Up
Risk managers should look for an incident reporting system that offers flexible, automatic routing. For example, if an event happens in the Emergency Department, the ED supervisor(s) should be notified. However, the pharmacist should also be looped in for follow-up if a medication error is reported. Look for a solution that allows you to decide whether risk management is automatically notified whenever an incident is submitted or if it should route to the department supervisor first. This increases resolution efficiency and allows risk managers to quickly identify high areas of risk.
5. Real-time Dashboards and Analytics
When patient safety incidents are displayed through data visualization tools (such as a graph or pie chart), risk and quality leaders can easily view trends and create follow-up action plans. (7) User-friendly dashboards allow risk managers to easily track trends over time, identify areas of improvement, and proactively reduce risk. Access to real-time patient information helps providers identify exactly where an error is happening, allowing leadership teams to prevent future safety events before they occur. (3)
To help risk managers improve day-to-day operations and reduce risk, it is critical for healthcare organizations to choose the right technology solution for their needs.
Performance Health Partners Incident Reporting System
Performance Health Partners customizable reporting solutions help organizations improve outcomes across departments and teams. Have access to the necessary data needed to increase patient safety and improve the overall care experience.
References:
1. https://www.aha.org/statistics/fast-facts-us-hospitals
2. https://www.healthinformatics.uic.edu/blog/risk-management-in-healthcare
3.
https://www.ncbi.nlm.nih.gov/pmc/articles/PMC5787626/
4. http://med.stanford.edu/content/dam/sm/sm-news/documents/StanfordMedicineHealthTrendsWhitePaper2017.pdf
5. https://www.nngroup.com/articles/tooltip-guidelines/
6.
https://www.beckershospitalreview.com/healthcare-information-technology/the-5-key-benefits-of-healthcare-interoperability.html?oly_enc_id=2071D0109945I4Q
7. https://www.beckershospitalreview.com/healthcare-information-technology/variation-in-healthcare-delivery-the-need-for-standardization.html