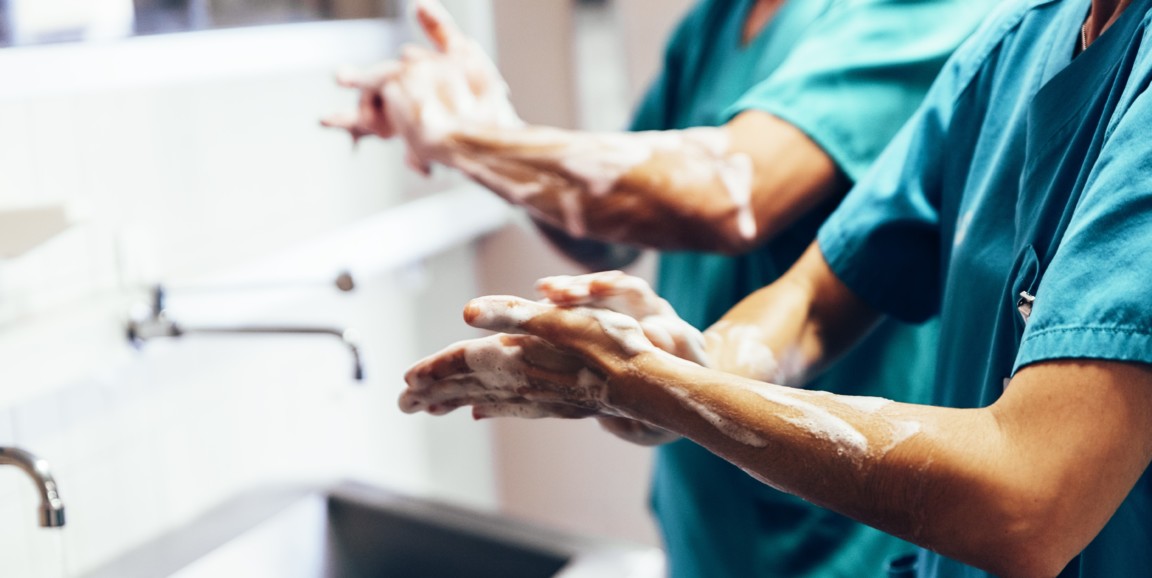 Each year, the global community becomes more aware of how important it is to prevent, detect, and respond to infectious diseases. As we have seen with the COVID-19 pandemic, new pathogens are emerging every day and evolving to resist treatments. This is in addition to the frequent threat of preventable harm that patients already face when being treated in a hospital.
As many as 1 in 10 patients are affected by medication errors or healthcare acquired infections (HAIs) while receiving hospital care. Nearly 50% of these adverse events are preventable. (1)
Between the harmful effects of the COVID-19 pandemic and the high prevalence of preventable healthcare-acquired infections, it is clear that organizations need to significantly consider how infection control and prevention tie into patient safety. The COVID-19 crisis has highlighted the demand for organizations to adopt a multidisciplinary approach in which patients and staff collaborate to strengthen emergency response and prevent the threat of disease. (2)
As COVID-19 vaccinations are being distributed at higher rates and social distancing restrictions are being lifted, it is especially important that healthcare organizations prioritize infection control and patient safety. How can healthcare organizations take a more proactive approach towards infection control and prevention as people start to transition back to normal life in the post-COVID era?
1. Prioritize Infection Prevention with Daily Rounding
The first step towards preventing infection is to put a process in place to evaluate infection control measures during daily rounding. Implementing real-time monitoring, measuring, and reporting solutions for clinical rounding can help organizations reduce infections rates as we move into the post-COVID era. For instance, a quality and performance improvement solution allows leadership teams to quickly and easily conduct rounding on areas like hand hygiene protocol or proper use of personal protective equipment (PPE). Taking a proactive approach through the use of daily rounding tools can help organizations prevent infection before it occurs.

2. Implement a Software Solution for Reporting, Tracking, and Monitoring Infection Control
Implementing an incident reporting system that helps track infection is a critical component of reducing underreporting, as well as improving quality, safety, and efficiency across healthcare organizations.
When healthcare organizations rely on traditional paper-based systems for tracking patient safety processes, they risk inconsistent data entry and lack the tools for effectively synthesizing event data for the purposes of learning, training, and prevention. Digital data entry is less time-consuming and helps leadership teams quickly identify underlying causes of adverse events and pinpoint exactly where they are occurring over time. Even "near misses", or events that did not result in patient harm, provide opportunities for proactive learning and improvement. (3) With an incident reporting system serving as a central channel for team communication, leadership teams can see where safety events are occurring in real-time.
3. Prioritize Healthcare Organization's Safety Efforts
As well as creating new challenges for patient safety, the pandemic may have also magnified existing issues. As healthcare workers on the frontlines attempt to keep up with new procedures and information that changes daily, they may be distracted from existing patient safety initiatives or simply may not be aware of increased risks. (4)
Errors are more likely to happen when staff work under physical and emotional pressure. (4)
To ensure that adequate processes are in place for prioritizing safety and avoiding employee burnout, organizations may need to implement new procedures and workflows. Every employee must understand their specific role and responsibilities involved with upholding organizational safety. It is important that each department provide training on safety protocols and adequate equipment so that no employee is unsure of his or her responsibilities. Staff members should also be regularly updated on related policy changes. An additional way to protect patient safety is to create a rapid response safety team, or a set of employees specifically assigned to addressing harmful safety incidents amidst COVID-19 pressures. (5)
4. Focus on Patient Well-being and Experience
It is essential that leadership teams understand what patient safety challenges their organizations face during the pandemic in order to support a clear process for decision-making. Practicing patient-centered care encourages active collaboration and shared-decision making between patients, families, and providers to provide a more comprehensive, high-quality care experience. When providers make space and time to listen to patient concerns, it can drastically improve safety outcomes. (6)
The primary goal of patient-centered care is to improve individual health outcomes, not just population health outcomes. (6)
Practicing patient-centered care is beneficial not only for patients, but also for health systems as it encourages better productivity among clinicians, improved resource allocation, and reduced expenses throughout the organization. This collaborative approach to care minimizes stress for patients that are already experiencing the aftermath effects of the post-pandemic world. Involving the patient in care decisions provides the right amount of communication needed to improve safety efforts and prevent harmful events from occurring in the future.
As we move beyond the peak of the pandemic and organizations seek to transition back to normal operations, now is the time to get creative with innovative solutions to improve safety outcomes.
Performance Health Partners' Incident Reporting Software
Implementing an infection control rounding tool and incident reporting software is a critical part of an effective patient safety initiative. With Performance Health Partner's Solutions, healthcare organizations can take action against the harmful effects of patient safety incidents, while focusing on delivering safe and high-quality care in the post-pandemic environment.
References: