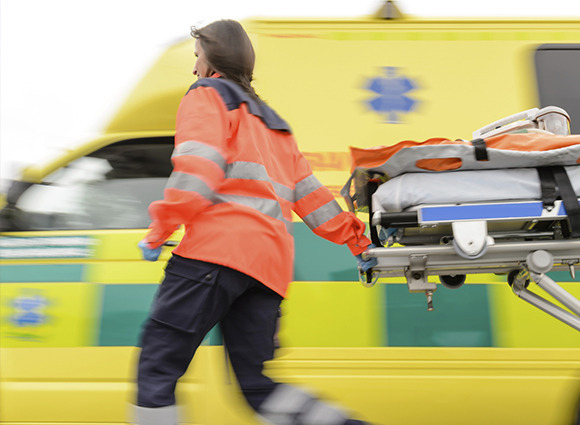 An emergency medical services (EMS) provider came to PHP with a common challenge: they were using paper and Excel files to manually report and track major business activities, which meant that data was easy to lose track of and difficult to analyze over time. They needed a solution to improve their processes and scale to their business needs. They needed an EMS incident management system.
Here are the five types of compliance and quality solutions they evaluated to effectively document, measure, and analyze performance indicators:
1. EMS Incident Management System
An incident reporting program is crucial for ambulance employees, patients, and family members to efficiently report and provide feedback on safety, quality, and compliance events.

EMS incident management systems can help ambulance services overcome several key challenges, including:
Lengthy paper reporting forms
Delayed notifications and communication silos
Fragmented Documentation
Manual manipulation of data
A technology solution to overcome these challenges should include:
An incident reporting system configured for EMS to track key events such as appropriateness of care, medication administration, safe transport, and proper use of equipment. The forms should be easily accessible and simple to complete. The incident reporting system should also include follow-up management to break down communication silos by allowing team members to collaborate on an event in a centralized location.

The ability to assign tasks, deadlines, action plans, and track root cause analysis and peer reviews all in one place.

Real-time dashboards with drill-through reporting to make sense of data and use it to inform decision-making. Drill through reporting, and real-time analytics makes it easier to see the big picture, measure key indicators, identity trends, and focus on areas of opportunities.

2. Audit, Risk Assessment, and Action Plan Management
Audit and monitoring are important day-to-day responsibilities for any department, including revenue cycle, quality improvement, compliance, and IT. They are strong indicators of the individual departments and overall system performance.
Tracking audits and risk assessments manually on paper and in Excel introduces several common challenges, such as:
Human error with manipulation of audit results

Pivot table competency

Maintaining record integrity
Data Governance & Security
Lack of real-time dashboards
Accountability & Audit Tools
Data Recovery
Fortunately, technology solutions can be helpful in overcoming these types of challenges. A technology solution that effectively addresses these areas of risk should include:
An audit manager application: The application should safely store, share, and track all chart auditing activities in a centralized location, allowing team members to stay on top of their audits through a worklist and automatic alerts. The application should also feature easily viewable dashboards to help identify areas of risk, understand workforce productivity, receive real-time results, and ensure benchmarks are being met.
If areas for improvement are identified, the use of an action plan manager allows teams to immediately assign and manage action plans across departments and the organization.
3. Quality Monitoring and EMS Checklist Solutions
An integrated system to monitor and measure quality standards and PI initiatives is becoming increasingly important for regulatory compliance in ambulance services.
Manually tracking quality monitoring on paper and in Excel introduces several common challenges, such as wasted time aggregating performance indicators across departments.
A quality monitoring technology can help ambulance services overcome key challenges, including:
Siloed quality and PI indicator tracking
Fragmented team collaboration tools
Delay dashboards and analytics
A technology solution to overcome these challenges should include:
The ability to track and document quality and performance improvement actions such as a total number of emergency and non-emergency runs, total runs billed, total revenue billed, and total canceled calls across units across departments.
Streamline

d

reporting makes it easy for supervisors to submit their performance indicators at the end of the month with built-in automatic reminders.
An action plan manager application

to immediately assign and manage action plans across the organization

, as well as to

g

et a centralized view of all action items and follow-ups associated with action plans

.
4. Employee Engagement Surveys
Measuring employee engagement in healthcare is essential, as employees who are happy are more likely to provide care that fosters a healthy, safe experience for patients. Ambulance services should look for an Employee Engagement Survey that makes measuring employee engagement simple.

An employee engagement technology can help ambulance services overcome several key challenges, including:

Capturing employee viewpoints anonymously
Data-driven information to

identify

opportunities

Difficulty

aggregat

ing

data
A technology solution to overcome these challenges should include:
An employee engagement survey application to collect and use employee feedback to develop actionable insights and recommendations for improvement. Employees can voice concerns and issues they've been holding back through anonymous reporting. The survey tools open up a line of communication between employees and managers

, allowing organizations to:

Collect feedback from employees securely, anonymously, and in real-time.
Flag response that requires immediate attention
Investigate further and initiate the proper recovery process
Assess engagement, resilience, and safety culture with one streamlined approach for all employees.
5. Custom Solutions

It can be challenging (and often expensive) for ambulance services to find a technology solution that fits into existing processes. An "off the shelf" solution doesn't always track the things you want it to track. It doesn't always report on the things you want to report.

Custom cloud solutions can fill ambulance service's technology gaps and automate any workflow, process, or checklist for superior process management, quality of care, and organizational health.
An ambulance service looking to improve quality outcomes might consider customized solutions such as:
Competency Evaluations
Patient Satisfaction
Inventory Management
Maintenance Requests
Peer Reviews
PI Clinical Rounding
Employee Health
Quality in ambulance services is a continuous process that involves identifying the most critical performance indicators for the services provided, measuring and reporting on that performance, and tracking areas of improvement over time. By focusing on quality, ambulance services can achieve the best possible outcomes for both patients and staff.
References
1- http://www.ihi.org/resources/Pages/Publications/EmergencyMedicalServicesAttheCrossroads.aspx