What is a Health and Safety Checklist? What do you Look for?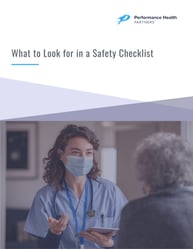 There are many benefits to using checklists in healthcare. Checklists are effective tools that healthcare teams can use to ensure consistency and reduce the risk of adverse events.
In this whitepaper, you'll learn what is a health and safety checklist, why safety rounding is important, what questions a safety checklist should ask, what factors to look for in a safety checklist tool, and the benefits of automated checklists for standardizing safety rounding across an organization.
Interested in learning more about checklists in healthcare? Read this.
To download, fill out form below.