How to Select the Right Incident Reporting System in Healthcare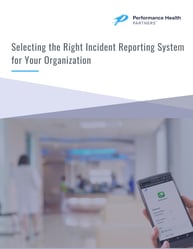 Implementing an incident reporting system can significantly improve patient outcomes, enhance operational efficiencies, and promote organizational growth. But it's important to choose the right solution to fit your organization's unique needs.
In this whitepaper, you'll learn the six key factors to consider when selecting an incident reporting system for your organization.
In this whitepaper, learn how to conduct effective safety huddles that improve patient outcomes and optimize communication across your organization
To download, fill out form below.