Revolutionizing Healthcare Operations with Healthcare's Leading Incident Reporting System [Case Study]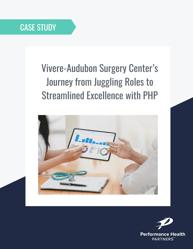 Learn how Vivere-Audubon Surgery Center transformed their day-to-day operations and streamlined workflow with PHP's incident reporting system and survey solutions.
In this case study, you'll learn:
How Vivere-Audubon successfully transitioned to PHP's safety software solutions, leading to operational improvements.
Their remarkable improvements achieved post-implementation, such as an 80% reduction in time spent on administrative tasks.
How PHP's continuous support built a lasting partnership, contributing to a notable boost in patient outcomes and satisfaction.
To download, fill out form below.
Transforming Excellence with Healthcare's Leading Incident Reporting System
Looking for an innovative incident management system to boost your healthcare operations and improve patient safety? We've got a resource you'll find very valuable. Check out our case study featuring Vivere-Audubon's successful transformation journey with Performance Health Partners and our advanced incident reporting software.
"Vivere-Audubon & Performance Health Partners: A Case Study on Streamlined Excellence & Operational Efficiency" is a compelling narrative of transformation. The story illustrates how Vivere-Audubon Surgery Center, a New Orleans based ambulatory surgery center, replaced their inefficient, time-consuming system of paper and spreadsheets with a user-friendly incident reporting system and how it drastically enhanced their operational efficiency.
Not stopping at just the incident management platform, Vivere-Audubon also introduced PHP's patient satisfaction survey solution, which delivers invaluable patient-centric insights. It's a deep dive into the process of change, the challenges they faced, and the innovative solutions they adopted.
Revolutionizing ASC Management: The PHP Incident Management Solution
Vivere-Audubon faced the daunting challenge of managing multifaceted tasks of overseeing an ASC in an efficient manner. Their journey led them to PHP, the nation's leading provider of healthcare incident reporting software, paying the way for a complete transformation.
The cornerstone of their success story was the implementation of PHP's incident management system in addition to PHP's patient satisfaction survey solution.
The results were astounding: boosting operational efficiency, increasing patient feedback submissions, simplifying complex processes like peer reviews, and facilitating a streamlined workflow. PHP's customer-centric approach and their commitment to comprehensive training made the transition smooth, stress-free, and highly effective.
Get Started on Your Journey Toward Transformation
Vivere-Audubon's inspiring journey demonstrates the transformative power of an advanced incident management system, interactive survey solution, and a highly dedicated team. The success of our partnership sends a powerful message to the healthcare industry – one of a promising future where organizations can utilize advanced patient safety technology to streamline their operations, improve patient outcomes, and decrease administrative burden.
Are you ready to start your journey toward enhanced healthcare quality and efficiency with a cutting-edge incident management system or a survey solution? This case study could be your first step towards achieving that transformation.
Complete the form at the top of this page to access the case study and uncover the secrets behind Vivere-Audubon's success with PHP's incident reporting system.