Employee Rounding in Healthcare: Empowering Staff & Improving Care Quality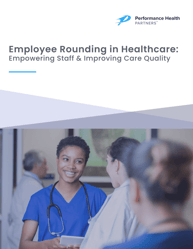 Employee rounding in healthcare is a proactive tool that can be used to improve the quality of care provided by an organization. When done correctly, employee rounding can help empower staff, so they feel like a valued member of the organization and provide better care to patients.
In this whitepaper, you'll learn:
The benefits of employee rounding
How to develop effective rounding questions
Strategies for creating a successful employee rounding process
How to harness technology to streamline rounding
To download, fill out form below.
Improving Organizational Practices for Boosted Employee Engagement and Satisfaction
Employee rounding is a practice that helps generate a culture of safety within an organization by improving staff engagement, satisfaction, and retention. Employee rounding involves executives or department leaders interacting with staff to gather their insights. This type of rounding not only allows management to learn what their staff feels is not working, but also allows their employees to feel that they have a voice. Studies have shown that employees feel more valued in their organization when they feel that their opinions are listened to and valued.
Furthermore, interacting with employees through a practice like employee rounding also helps to build trust and promote a culture of safety within the organization. By understanding the concerns of frontline workers, management is better equipped to implement changes that emphasize their focus on employee safety.
When management demonstrates a commitment to transparency in the workplace, assuring employees there will be no negative repercussions for their openness, it fosters an environment where employees feel secure to report incidents and near miss events they might previously have been hesitant to share. This heightened level of reporting not only enables the collection of richer data but also paves the way for more informed decision making. Consequently, this approach can facilitate substantial improvements to organizational safety and efficiency.
Our comprehensive whitepaper has been designed to help healthcare professionals understand the advantages of employee rounding, while also delineating the steps to successfully establish an effective rounding process. Downloading our guide promises to enrich your perspective with pivotal insights, equipping you with the right skills to engage employees through effective questioning and active listening.
Optimizing Your Employee Rounding Strategy: A Blueprint for Excellence
Establishing an effective employee rounding program involves several considerations and thoughtful planning. A crucial aspect is the creation of pertinent questions – a blend of open-ended questions, measurable qualitative inquiries, and personal questions designed to elicit authentic responses. Crafting such an assortment is key to generating comprehensive data and nurturing trust between leadership and employees.
Furthermore, it's essential to sequence the questions strategically to ensure a natural, comfortable conversation flow. When you download our whitepaper, you'll gain access to in-depth guidance on organizing your questions effectively. Plus, our guide also includes a selection of example questions to enhance your employee rounding efficacy.
Of course, a successful rounding program extends beyond the questions asked. Various strategies are paramount to its success. Regular scheduling of rounds, clarifying the purpose of rounding for both management and employees, and fostering a culture of transparency post-rounding are just a few. Download our whitepaper today for a detailed exploration of these and other essential strategies, empowering you to create a robust employee rounding program in your organization.
Let's Get Started
Ready to learn more about how digital rounding tools can help your organization implement employee rounding more efficiently to improve employee engagement and satisfaction? Connect with our team to learn how our software can help you meet your goals.