How to Improve and Monitor Employee Health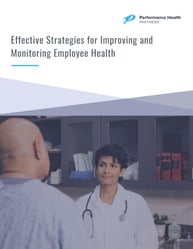 Developing effective strategies for improving and monitoring employee health is key for healthcare organizations to track employee health across departments and reduce costs.
In this whitepaper, you'll learn:
Four ways to improve employee health within your organization
Challenges of monitoring employee health
How to save over $100,000 annually in costs
To download, fill out form below.
Keeping employees safe and healthy is one of the top priorities of every healthcare organization. This has become even more apparent since the start of COVID-19, as many organizations struggled to track employee exposure, symptoms, and vaccination status.
But it's not just during a pandemic that organizations need to focus on their employees' health and wellbeing. Healthcare workers have historically faced high levels of burnout and stress, and it's time for organizations to step up and begin to address these multi-faceted challenges.
Challenges of Managing Employee Health
Even given its importance, managing the various aspects of employee health can be challenging for healthcare organizations to monitor for several reasons. Firstly, managing large amounts of data can prove to be difficult, costly, and cumbersome with traditional methods like paper records and spreadsheets. This is especially true for larger organizations with more than 1,000 employees.
Furthermore, off-the-shelf solutions – another popular method for tracking employee health – can't deliver the same results as a customized software solution.
Every healthcare center has unique needs, so when looking for a solution for employee health, organizations should consider a potential partner that will be willing and able to take the time to understand the nuances and complexity of their particular employee health challenges.
How to Improve and Monitor Employee Health with a Digital Solution
Software solutions can be helpful in tracking employee health across departments, and can also benefit organizations by reducing costs. With increased ease of recalling information and reduced risk, even small organizations can save over $100,000 annually by implementing a solution for employee health.
But not all software solutions are created equal. Performance Health Partners' customized digital employee health solution helps healthcare organizations:
Empower employees to take control of their own health
Eliminate the risk of inconsistent or incomplete data
Effectively synthesize employee health data
Provide a central channel for team communication
Get real time notifications and alerts
Analyze custom dashboards to track trends over time
Our Employee Health software solution boasts the following features:
Employee safety:

Tracks injuries and workers' compensation claims
Vaccination tracking:

Makes it easy to track and manage who has received testing and vaccinations for illnesses such as Hep B, TB, flu, and COVID-19
Licensure and certification tracking:

Keeps track of important dates for employees' licenses and certifications
Environmental surveillance:

Ensures preventative and infection control measures are routinely followed
Health status reporting:

Tracks and manages employees' health, safety, and exposure by allowing them to report illness, symptoms and environmental concerns – even anonymously
Employee health dashboards:

Allows leadership to review critical data related to employee safety in one central location and gain real-time reports to stay on top of workforce safety
In this case study, learn how one healthcare organization proactively improved upon their employee health process by implementing tools for vaccine tracking, data visualization, and more.
Ready to See More?
Request a free demo with our team to learn how Performance Health Partners can help your organization track, manage, and improve employee health.