Developing an Effective Root Cause Analysis in Healthcare Examples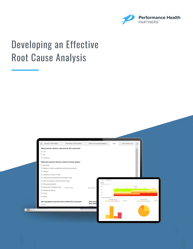 Developing an effective root cause analysis in healthcare is vital to identify factors that contribute to adverse events so that measures can be put in place to improve patient safety, prevent incidences from happening in the future and reduce costs associated with risk.
In this whitepaper, you'll learn:
Seven types of tools that can be used in conducting an effective root cause analysis
How to maximize root cause analysis in healthcare (with examples and standard processes)
What steps to take after a root cause analysis
To download, fill out form below.
The Role of Root Cause Analysis in Healthcare
A root cause analysis (RCA) aims to identify any breakdowns in processes and systems that contributed to an adverse event.
When done effectively, an RCA can:
Identify factors that contributed to an adverse event or near-miss so that measures can be put in place to address contributing factors
Prevent incidents from happening again in the future
Improve patient safety outcomes
Reduce the costs associated with risk
Traditionally, conducting a root cause analysis in healthcare has involved data collection, staff interviews, and literature reviews, which culminates in identifying the root cause of an issue and interventions that could potentially minimize or eliminate the risk of reoccurrence of the incident or event.
Although root cause analysis is a crucial element of improving patient safety and quality of care, finding the right process for conducting an RCA can often be time-consuming and expensive for healthcare organizations to implement.
A Comprehensive Root Cause Analysis Software
Perhaps one of the most efficient ways to improve the RCA process, and thus achieve higher quality outcomes, is to implement an incident reporting software that includes RCA capabilities, combined with a human centered approach as part of the follow-up management process.
Rather than tracking reports on paper or in a spreadsheet, an incident reporting software stores data in a centralized location, making it far more convenient and effective for organizations to conduct an accurate root cause analysis.
Some benefits of implementing a root cause analysis software include:
Standardize management of the root cause analysis process
Provide a central channel for team communication
Get real-time notifications and alerts
Analyze custom dashboards to track reported incidents over time
By encouraging the sharing of information, putting processes in place for effective communication, and promoting a culture of safety, conducting effective root cause analysis through an electronic solution can positively impact quality outcomes in healthcare.
Turn Data Into Actions to Optimize Patient Safety
Performance Health Partner's incident reporting software allows interdisciplinary teams to easily collaborate on systemic issues that lead to adverse events, allowing organizations to take a collaborative approach focused on learning and lasting improvements.
To learn more about root cause analysis in healthcare, or to hear about how our incident reporting software can benefit your organization, request a demo with our team.