Calculate the Cost of Events at Your Facility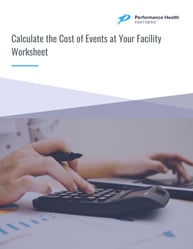 In OECD countries, patient harm and adverse events – like healthcare-acquired conditions and falls – account for approximately 15% of total hospital expenditures, presenting a considerable drain on healthcare organizations.
Download our worksheet to calculate the cost of events at your facility. Then, read our blog post to learn how incident reporting software can help prevent events and decrease costs
To download, fill out form below.
What Is the Cost of an Adverse Event?
Adverse events are events in which care resulted in an undesirable clinical outcome – an outcome that prolonged the patient stay, caused permanent patient harm, required life-saving intervention, or contributed to death. They include but are not limited to healthcare-acquired infections (HAIs), patient falls, pressure ulcers, medication errors, and wrong-site surgeries.
Health economists at the Centers for Disease Control estimate that the annual costs of HAIs alone in the United States can cost the healthcare industry up to $45 billion per year. Furthermore, approximately 30–35% of falls occurring in healthcare facilities result in injury that can cost over $14,000 per incident and add, on average, 6.3 days to an individual's length of stay.
There are several ways in which the cost of events can affect a healthcare organization's revenue stream. Consider the following:
Adverse events can directly affect reimbursement under value-based payment programs. Payments from commercial or government payers are increasingly tied to the achievement of quality targets; poor performance means less reimbursement.

Safety errors can cause hospitals to lose money under capitated payment arrangements. Errors may increase the total cost of care so that it eventually exceeds the fixed payment the organization will receive. This is particularly true for HAI-related events that unnecessarily drive up the cost of care.

Noncompliance with accreditors often brings monetary penalties and fines.

Lawsuits by patients, families, and even providers can result in legal costs for handling and processing. When not managed appropriately, even logged incidents that don't necessarily result in patient harm can increase costs, leading to revenue loss.

Adverse events (and even near misses) can take a psychological toll on involved participants. There are costs to treating depression and provider burnout, and addressing employee turnover.

Reputational harm can lead to patients seeking care at competitor organizations, directly affecting volume and revenue.
While HAIs, inpatient falls, and other incidents can cause patient harm and increase financial burden to an organization, many adverse events are preventable with an effective patient safety and clinical quality technology that strengthens care delivery and drives quality outcomes.
Avoid Harm – and Unnecessary Costs
As staffing shortages, international supply chain disruptions, and other safety concerns increase risk for adverse events, it's more important than ever for healthcare organizations to strengthen their patient safety programs to improve quality and prevent harm.
One of the most effective ways to optimize safety and prevent harmful events from occurring is through the implementation of an incident reporting system. By increasing the number of near misses and incidents reported, healthcare organizations can collect incident data to identify and track safety hazards, and use it to guide the development of interventions to mitigate risks.
Incident reports help staff better understand – and transform – the individual or system-level factors contributing to adverse events and other related incidents. At the organizational level, incident reporting can foster internal transparency and foster a continuous improvement culture. As a culture of patient safety is cultivated, patient outcomes are improved and unnecessary costs are reduced.
Achieve Your Safety Goals with a Solution That Works
Performance Health Partners' incident reporting software empowers staff to share observations to detect safety gaps before they become harmful events. Our system is designed to allow employees to:
Easily report incidents. User-friendly and fully customizable forms allow team members to report incidents, events, complaints, and near misses in under two minutes. EHR interoperability allows for fast and accurate incident reporting.

Manage follow-up and safety improvements. Automatic alerts and workflows notify team members and departments to review and follow up on reported incidents through a centralized communication channel. Overcome follow-up management hurdles by using streamlined tools that drive patient and employee safety by breaking down communication silos.

Make data-driven decisions. Real-time dashboards with drill-through reporting enable teams to gain insight on process failures and underlying issues, prioritize performance improvement initiatives, and prevent future incidents from reoccurring.
Ready to get started? Request a demo with our team to learn more.