10 Elements of a Just Culture in Healthcare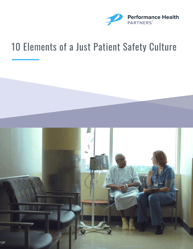 Developing an effective patient safety program starts with establishing a just culture of patient safety, and it is every healthcare professional's responsibility.
In this whitepaper, you'll learn:
The 10 key elements of a just culture in healthcare

The research-backed connection between establishing a patient safety culture and patient safety outcomes

How to foster a just patient safety culture within your organization
To download, fill out form below.
Prioritizing a Just Patient Safety Culture
A just patient safety culture is the culmination of individual and group beliefs, values, attitudes, perceptions, competencies, and behavior patterns that determine an organization's commitment to quality and patient safety.
In other words, to establish an effective patient safety culture, every healthcare team member should be equally committed to putting patient safety first. Furthermore, the team must continuously engage in actions that reflect that commitment.
Improving the safety culture within a healthcare environment is critical to preventing harm and improving the overall quality of care. Organizations that fail to prioritize a just patient safety culture are more likely to experience:
Higher rates of patient harm
Underreported safety events
Increased costs
Foster a Strong Patient Safety Culture Through Incident Reporting
To establish a just patient safety culture, a healthcare organization must:
Define and adhere to clear safety policies
Use transparent risk-based processes for recognizing human errors and system errors
Encourage all team members to report harmful incidents and near misses without fear of retaliation
Promote open communication among care teams so that all employees feel safe reporting events
Regularly assess system strengths and vulnerabilities, and prioritize them for improvement
In order to provide the highest quality care in the safest possible environment, all organizations should prioritize just culture healthcare by establishing a patient safety culture. To do so effectively, many organizations turn to health information technology.
Implementing incident reporting software is an integral part of establishing an effective patient safety culture.
For example, an incident reporting software solution can help to pinpoint exactly where the majority of patient falls are occurring, down to the specific location. Understanding this information could prompt additional training on proper fall protocol or prevention measures for that specific department.
Take Patient Safety to the Next Level with Performance Health Partners
Performance Health Partners' patient safety software helps healthcare organizations take action to prevent harm, improve the quality of the care experience, and truly cultivate a patient safety culture.
Specifically, our incident reporting tool does this by allowing organizations to:
Eliminate the risk of inconsistent or incomplete data entry
Effectively synthesize patient data
Provide a central channel for team communication
Get real-time notifications and alerts
Analyze custom dashboards to track trends over time
Prevent reoccurring incidents from taking place
Get closer to zero harm
For more information on how a software solution can help your organization improve patient safety outcomes, request a free demo with our team.